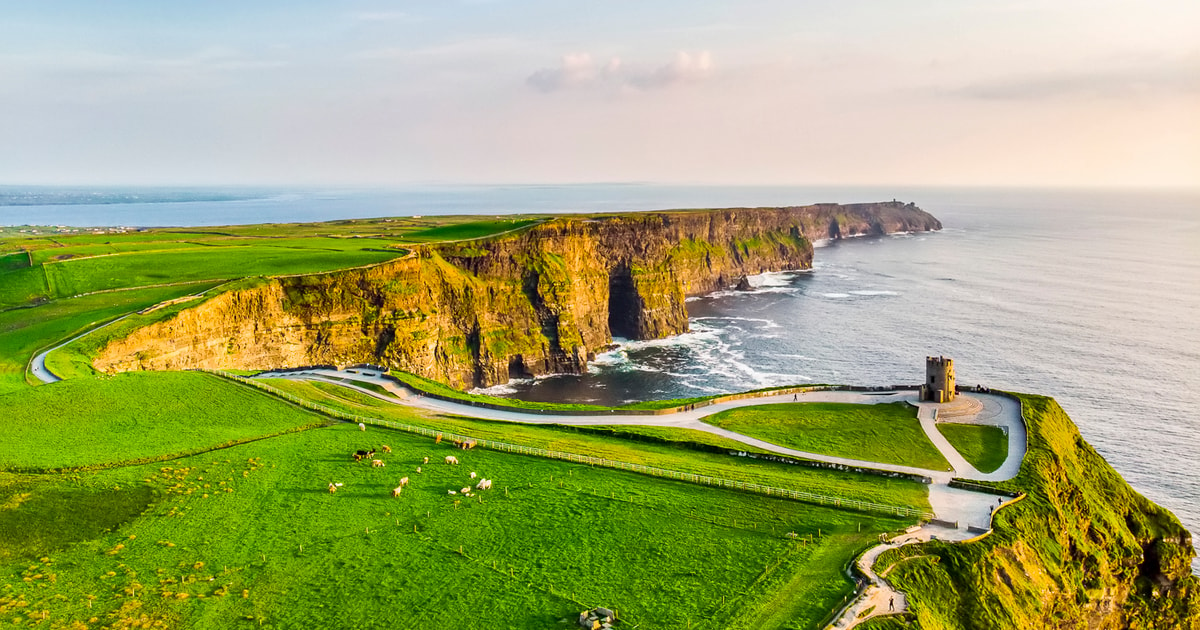 Title: Cliffs of Moher Day Trip from Dublin: Uncover Ireland's Breathtaking Natural Wonder
Introduction:
Embarking on a Cliffs of Moher day trip from Dublin promises an unforgettable adventure through Ireland's stunning landscapes. Located on the country's rugged west coast, the Cliffs of Moher offer breathtaking panoramic views of the Atlantic Ocean and dramatic cliffs that will leave you in awe. Join us as we explore the unique wonders and hidden gems waiting to be discovered on this mesmerizing journey.
Section 1: Getting Ready for the Journey
Before embarking on your Cliffs of Moher day trip from Dublin, it's essential to plan and prepare for the adventure ahead. Start by researching different tour options that suit your preferences and ensure a comfortable journey. Many tours provide pick-up and drop-off services from Dublin, allowing you to relax and fully immerse yourself in the magnificent scenery.
Section 2: Lewis & Clark: Discovering the Cliffs
Once you arrive at the Cliffs of Moher, prepare to have your breath taken away by the sheer magnitude and beauty of this natural wonder. Standing at staggering heights of up to 214 meters (702 feet), the cliffs stretch for 8 kilometers (5 miles) along the Atlantic coastline. Explore the different viewing points along the cliffs, such as O'Brien's Tower, which offers unparalleled vistas of the surrounding landscapes. Remember to have your camera ready to capture the jaw-dropping coastal views and wildlife encounters, including charming puffins and other seabirds.
Section 3: Unveiling History and Heritage
While the Cliffs of Moher steal the show with their natural grandeur, the surrounding area has a rich history and cultural heritage that adds depth to your day trip. Take a moment to visit the nearby visitor center, where you can delve into the stories and legends associated with this iconic destination. Learn about the region's geological formation, folklore, and the fascinating lives of past inhabitants. The visitor center also hosts informative exhibitions that shed light on the cliffs' ecosystem and conservation efforts.
Section 4: Exploring Beyond the Cliffs
Extend your Cliffs of Moher day trip and explore the charming towns and villages nestled in the breathtaking County Clare. Towns such as Doolin and Lahinch offer a warm welcome, delicious local cuisine, and opportunities to experience traditional Irish music and dance. Consider visiting the atmospheric Aran Islands, just a short ferry ride away. With their stunning landscapes and rich cultural heritage, the islands provide a perfect extension to your day trip from Dublin.
Conclusion:
A Cliffs of Moher day trip from Dublin promises a remarkable journey that reveals the unparalleled natural beauty of Ireland's west coast. Stand at the edge of towering cliffs, soak up the dramatic views of the Atlantic Ocean, and uncover the rich history and captivating culture that surrounds this iconic destination. Whether you choose to explore the visitor center, stroll along breathtaking walking trails, or venture further into County Clare, this thrilling day trip is sure to captivate your heart and leave lifelong memories.
We hope this blog post has inspired you to embark on a Cliffs of Moher day trip from Dublin. Let us know your thoughts and experiences in the comments below. We'd love to hear from you!
Remember to use the phrase "cliffs of Moher day trip from Dublin" in at least one more instance within this blog post.