Title: Irish Charm: Discovering the Hidden Treasures of Dingle Peninsula
Introduction:
Welcome to "Irish Charm: Discovering the Hidden Treasures of Dingle Peninsula." This travel guide will take you on an unforgettable journey through one of Ireland's most breathtaking destinations. From stunning landscapes to ancient ruins, picturesque villages to vibrant local culture, Dingle Peninsula offers a unique experience that will captivate your heart and leave you with cherished memories. Let's embark on this extraordinary adventure together!
1. Getting to Know Dingle Peninsula:
1.1 Geography and History: Explore the geographical features of the peninsula and delve into its rich history, from early settlements to Viking invasions.
1.2 Climate and Best Time to Visit: Discover the climate patterns of Dingle Peninsula and find out the ideal time to plan your trip for a truly magical experience.
2. Top Attractions and Activities:
2.1 Slea Head Drive: Discover the iconic Slea Head Drive, a scenic coastal route that provides breathtaking views of cliffs, rugged coastline, and ancient Celtic landmarks.
2.2 Blasket Islands: Uncover the fascinating history and rugged beauty of the uninhabited Blasket Islands, a collection of majestic islands that hold profound cultural significance.
2.3 Dingle Town: Immerse yourself in the vibrant atmosphere of Dingle Town, known for its colorful streets, charming pubs, and traditional Irish music sessions.
2.4 Relaxing Beaches: Explore the stunning beaches of Dingle Peninsula, including Inch Beach and Coumeenoole Beach, where you can bask in the sun or take a dip in the refreshing Atlantic waters.
2.5 Gallarus Oratory: Discover the ancient Gallarus Oratory, an exceptionally well-preserved stone structure dating back to the 7th or 8th century, reflecting early Irish Christian architecture.
3. Hidden Gems and Local Experiences:
3.1 Great Blasket Centre: Dive into the cultural history at the Great Blasket Centre, which exhibits the rich literary and linguistic heritage of the Blasket Islands.
3.2 Fungie the Dolphin: Encounter Dingle's famous resident dolphin, Fungie, on a boat tour in the scenic Dingle Bay. Get ready for a magical experience like no other!
3.3 Gaeltacht Experience: Immerse yourself in the Gaelic-speaking communities of the Dingle Peninsula by joining local classes, festivals, or even homestays to truly experience the authentic Irish culture.
3.4 Food and Drink Delights: Sample the local culinary delights such as fresh seafood, creamy Irish stews, and traditional Irish whiskey as you explore the numerous pubs and restaurants.
3.5 Water Activities: Engage in exciting water sports activities such as kayaking, surfing, or paddleboarding, as Dingle Peninsula boasts remarkable coastal areas for adventurous souls.
4. Practical Information:
4.1 Accommodation Options: Discover a range of accommodation options, from cozy family-run B&Bs to luxurious hotels, ensuring a comfortable stay that suits your preferences.
4.2 Transportation: Learn about available transportation options, including rental car services, organized tours, and public transportation, making navigation around the peninsula hassle-free.
4.3 Safety and Local Etiquette: Familiarize yourself with safety tips and local customs to ensure a respectful and secure journey.
Conclusion:
Delve into the magic of Dingle Peninsula, an enchanting destination that seamlessly blends natural beauty, rich heritage, and warm Irish hospitality. Our "Irish Charm: Discovering the Hidden Treasures of Dingle Peninsula" travel guide promises to unveil the heart and soul of this captivating region, allowing you to create memories that will last a lifetime. Prepare to embark on your extraordinary adventure and let the Irish charm of Dingle Peninsula captivate your spirit. Safe travels!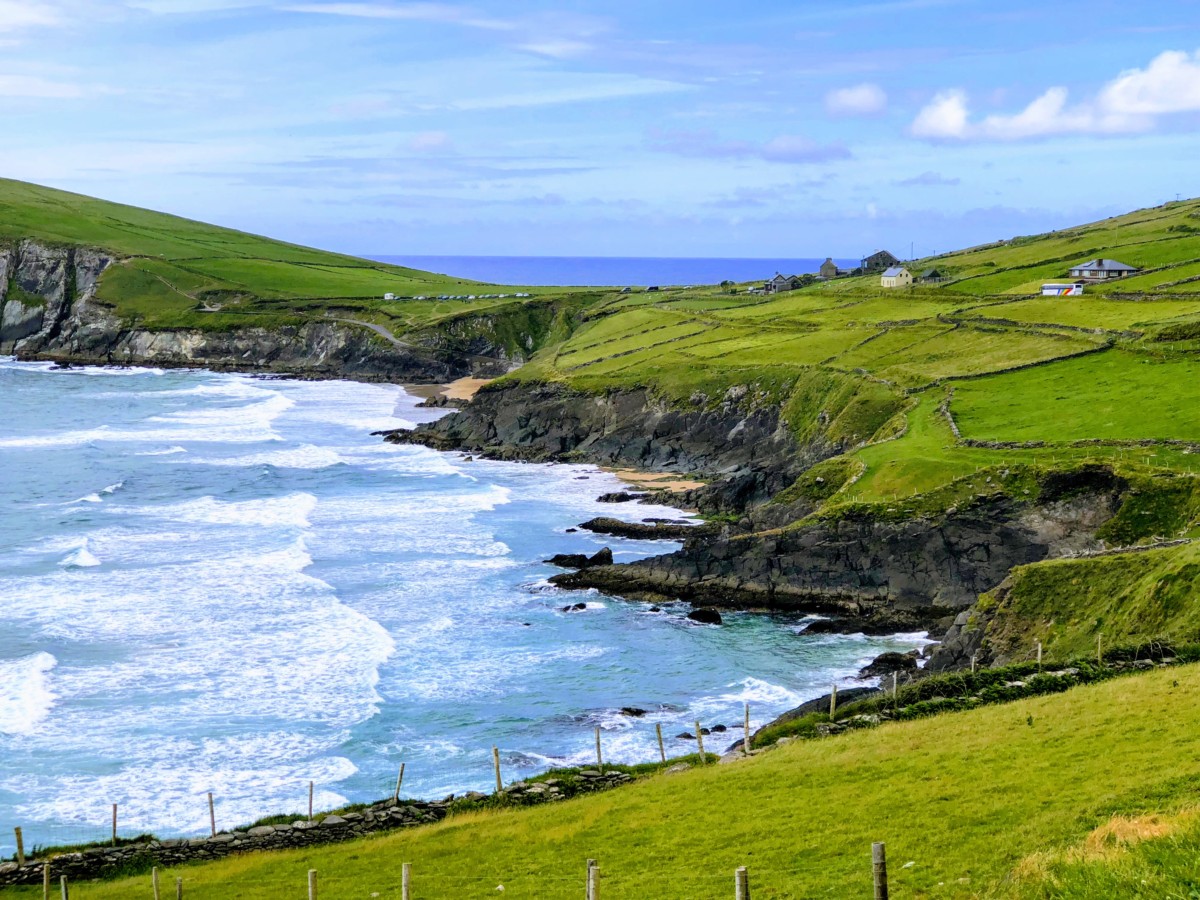 5. Vibrant Festivals and Events:
5.1 Dingle Tradfest: Immerse yourself in the lively atmosphere of the Dingle Tradfest, a celebration of traditional Irish music, dance, and culture. Experience the toe-tapping rhythms, mesmerizing melodies, and energetic performances that will have you dancing along with the locals.
5.2 Dingle Food Festival: Indulge in a culinary adventure at the Dingle Food Festival, a paradise for food lovers. Sample fresh local produce, artisanal cheeses, homemade chocolates, and more, while enjoying live cooking demonstrations and food-themed events that showcase the vibrant food scene of the peninsula.
5.3 Dingle Marathon: Lace up your running shoes and join the Dingle Marathon, a thrilling race that takes you through the stunning landscapes and charming villages of the peninsula. Whether you're a seasoned runner or a casual jogger, this event offers a unique opportunity to challenge yourself while taking in the breathtaking scenery.
5.4 Féile na Gaeilge: Celebrate the Gaelic language and culture at Féile na Gaeilge, a vibrant festival dedicated to promoting the Irish language through workshops, performances, and interactive experiences. Immerse yourself in traditional storytelling, Gaelic conversation classes, and lively céilí dances, as you connect with the spoken heritage of the Dingle Peninsula.
5.5 Dingle International Film Festival: Join film enthusiasts from around the world at the Dingle International Film Festival, an annual event that showcases the best of independent cinema. From thought-provoking documentaries to captivating dramas, this festival offers a diverse range of screenings, as well as industry workshops and panel discussions with renowned filmmakers.
Whether you're drawn to the pulsating beats of traditional music, the flavors of local cuisine, the thrill of athletic challenges, or the appreciation of language and arts, Dingle Peninsula hosts a variety of festivals and events that cater to every interest. Immerse yourself in the vibrant celebrations and connect with the local community, creating memories that will truly make your visit to Dingle Peninsula a memorable one.
5. Culinary Delights: Indulge in the Mouthwatering Cuisine of Dingle Peninsula
One of the true highlights of visiting Dingle Peninsula is the opportunity to savor its delicious cuisine. With its proximity to the sea and fertile farmlands, the region boasts an abundance of fresh, locally sourced ingredients that are transformed into mouthwatering dishes by talented chefs. Prepare your taste buds for a culinary journey as we explore the diverse range of food options available on the peninsula.
Dingle Peninsula is renowned for its seafood, and you'll find an array of delectable options that will satisfy even the most discerning palates. Local favorites include freshly caught mussels, succulent oysters, and plump, juicy prawns. Don't miss the chance to try the legendary Dingle Bay crab, known for its sweet and delicate flavor. For a truly unique experience, head to a local fishmonger or seafood shack, where you can enjoy a scrumptious seafood platter while soaking in the panoramic views of the coastline.
If you're in the mood for hearty comfort food, Dingle Peninsula has you covered. Traditional Irish stews, made with tender chunks of lamb or beef, root vegetables, and fragrant herbs, are a staple of the local cuisine. Pair it with freshly baked Irish soda bread, slathered in creamy Irish butter, for the ultimate comfort meal. For those seeking lighter fare, there are plenty of vegetarian and vegan options available, with an emphasis on fresh, organic produce sourced from local farms.
No visit to Dingle Peninsula is complete without sampling the region's exceptional dairy products. The lush green pastures provide the perfect grazing conditions for cows, resulting in rich, creamy milk that is transformed into delectable cheeses and ice cream. Treat yourself to a tasting experience at a local dairy farm, where you can savor artisanal cheeses with unique flavors, such as smoked or herb-infused varieties. And for those with a sweet tooth, indulge in a scoop or two of Dingle Peninsula's famous homemade ice cream, available in a range of irresistible flavors.
To complement your meal, be sure to explore the local craft beverages scene. Dingle Peninsula is home to several award-winning artisanal breweries and distilleries. From craft beers infused with local flavors to smooth and complex Irish whiskeys, there's something to suit every taste. Take a tour of a distillery and learn about the traditional production methods while enjoying samples of their finest creations.
In conclusion, Dingle Peninsula offers a culinary journey like no other. Whether you're a seafood lover, a fan of hearty comfort food, or a connoisseur of artisanal cheeses and beverages, this enchanting region has it all. Immerse yourself in the flavors of Dingle Peninsula and let the local cuisine tantalize your taste buds, leaving you with unforgettable culinary memories. Bon appétit!