Title: The Romantic Road Explorer's Guide
Introduction:
Welcome to the enchanting world of the Romantic Road in Bavaria, Germany. Stretching over 350 kilometers from Würzburg to Füssen, this iconic route offers an unforgettable journey through picturesque landscapes, charming towns, and fairytale castles. Whether you're a history enthusiast, nature lover, or hopeless romantic, this travel guide has all the information you need to make the most of your adventure along the Romantic Road.
Chapter 1: Planning Your Trip
– Overview of the Romantic Road route and its major stopping points
– Best time to visit, weather conditions, and seasonal highlights
– Choosing transportation options: self-drive, guided tours, public transport, or cycling
– Accommodation recommendations ranging from luxury hotels to cozy guesthouses
– Packing tips and essential items for a comfortable journey
Chapter 2: Exploring Würzburg
– Discovering the UNESCO-listed Würzburg Residence and its stunning gardens
– Walking tours through the Old Town, including the iconic Marienberg Fortress
– Exploring the Franconian wine region and sampling local wines
– Recommended restaurants offering traditional Franconian cuisine
Chapter 3: Rothenburg ob der Tauber
– Immerse yourself in the medieval charm of Rothenburg's well-preserved old town
– Stroll along the city walls and visit the impressive Toppler Castle
– Exploring the Christmas Museum and experiencing the magical Christmas market
– The Night Watchman's Tour: a unique evening experience along the cobblestone streets
Chapter 4: Augsburg and Nördlingen
– Discovering the rich history of Augsburg, including the Fuggerei and Town Hall
– Visiting Nördlingen, a town encircled by a perfectly preserved medieval city wall
– Exploring the Ries Crater Museum and learning about the impact of a meteorite
– Local legends and fascinating folklore from both towns
Chapter 5: Hohenschwangau and Neuschwanstein
– The fairytale castles of Hohenschwangau and Neuschwanstein, symbols of Romanticism
– Detailed information on castle tours, ticket reservations, and guided options
– Tips for capturing the perfect photographs of these iconic landmarks
– Exploring the beautiful Alpsee Lake and nearby hiking trails
Chapter 6: Ending the Journey in Füssen
– Discovering the charming town of Füssen with its colorful streets and historic buildings
– Exploring the High Castle and its stunning panoramic views
– Sampling Bavarian cuisine at local restaurants and beer gardens
– Recommendations for day trips from Füssen, including the Zugspitze and the Tegelbergbahn cable car
Whether you choose to explore the Romantic Road leisurely or expedite your journey, this guide will serve as your trusted companion, providing valuable insights and recommendations. Prepare to embark on a captivating adventure through the heartland of Bavaria, where history, culture, and romance merge to create an unparalleled travel experience. Safe travels along the Romantic Road!
Chapter 7: Festivals and Events Along the Romantic Road
In addition to its stunning landscapes and historic landmarks, the Romantic Road is also known for its vibrant festivals and events. These celebrations provide an opportunity to immerse yourself in the local culture and witness traditional Bavarian customs. Here are some of the most anticipated festivals and events along the Romantic Road:
1. Würzburg Wine Festival: Held in late August, this festival celebrates the rich wine heritage of the Franconian region. Visitors can indulge in wine tasting sessions, sample local delicacies, and enjoy live music and entertainment. The highlight of the festival is the crowning of the Wine Queen, who represents the finest wines of the region.
2. Rothenburg Medieval Festival: Travel back in time to the Middle Ages with the Rothenburg Medieval Festival, which takes place in early September. The streets come alive with knights, jugglers, musicians, and market stalls selling traditional crafts and delicious food. Don't miss the spectacular jousting tournaments and the grand parades that add an authentic touch to this medieval extravaganza.
3. Augsburg Plärrer: Experience the vibrant atmosphere of Augsburg Plärrer, one of the oldest folk festivals in Bavaria. Held twice a year, in spring and autumn, this event features thrilling rides, traditional beer tents, live music, and a variety of mouthwatering street food. Get into the festive spirit and join the locals in their laughter-filled celebrations.
4. Füssen Festival Weeks: From mid-July to early August, Füssen comes alive with the Füssen Festival Weeks. This cultural extravaganza offers a diverse program of music, theater, and dance performances, showcasing local talent as well as international artists. Whether you enjoy classical music, jazz, or traditional Bavarian folk songs, there's something for everyone to enjoy during this vibrant event.
5. Christmas Markets: During the holiday season, the towns along the Romantic Road transform into magical winter wonderlands. Rothenburg's Christmas market is renowned for its festive atmosphere and traditional handicrafts, while Würzburg's market offers a delightful blend of Christmas treats and beautifully decorated stalls. Explore the markets, savor a warming cup of glühwein, and soak up the enchanting ambiance.
These festivals and events add an extra layer of excitement and cultural immersion to your Romantic Road journey. Be sure to check the dates and plan your visit accordingly to make the most of these memorable experiences. Celebrate the traditions, indulge in local delicacies, and create lifelong memories along the enchanting Romantic Road.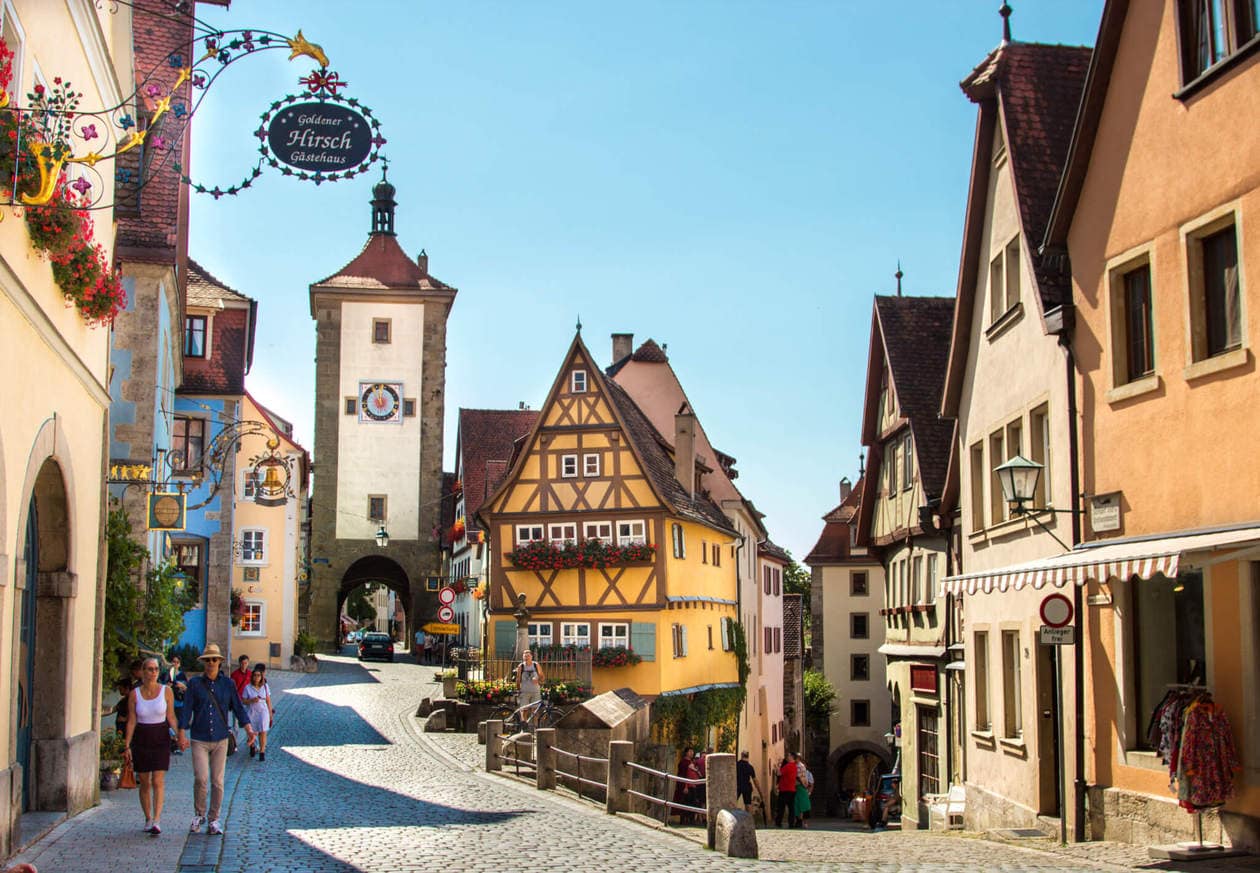 Chapter 7: Indulging in Bavarian Cuisine
One cannot explore the Romantic Road without delving into the mouthwatering cuisine that Bavaria has to offer. Known for its rich flavors and hearty dishes, Bavarian food is a true delight for the senses. From traditional sausages to delectable pastries, here are some must-try dishes and dining experiences along the route.
1. Traditional Bavarian Sausages:
No trip to Bavaria is complete without savoring the famous sausages. Würzburg, the starting point of the Romantic Road, is known for its variety of sausages, including the flavorful bratwurst and the Nuremberg-style rostbratwurst. Don't forget to try them with sauerkraut and mustard for an authentic taste.
2. Pretzels and Beer:
As you make your way along the Romantic Road, you'll come across numerous beer gardens and breweries, especially in Augsburg. Pair a freshly baked pretzel, known locally as brezel, with a tall glass of Bavarian beer for the perfect snack. The traditional beer gardens also offer a warm and convivial atmosphere, making them a great place to mingle with locals and fellow travelers.
3. Bavarian Specialties:
Rothenburg ob der Tauber is renowned for its culinary delights, and you won't want to miss trying the local specialty of schneeballen. These ball-shaped pastries come in various flavors, such as powdered sugar, chocolate, or cinnamon, and are a true indulgence. Additionally, you can sample the famous Rothenburger Schneeball liqueur, made from the same ingredients.
4. All Things Cheese:
In Füssen, the final stop of your Romantic Road journey, make sure to indulge in Bavaria's cheese selection. The region is home to a vast array of cheeses, including the creamy Allgäuer Bergkäse and the pungent Limburger. Visit a local cheese shop or market to taste these delightful flavors and discover your personal favorite.
5. Sweet Treats:
To satisfy your sweet tooth, be sure to try Bavaria's iconic desserts. The Apfelstrudel, a warm apple strudel served with vanilla sauce or ice cream, is a beloved classic. Nördlingen is also known for its Lebkuchen, a type of German gingerbread that is both aromatic and delicious. These treats offer a sweet ending to your Romantic Road adventure.
As you journey along the Romantic Road, let the flavors of Bavaria captivate your taste buds. From sausages to pretzels, cheese to desserts, the region's cuisine reflects its vibrant culture and traditions. Embrace the gastronomic treasures of Bavaria and savor every bite as you create memories to last a lifetime. Bon appétit!