Title: Nyhavn, Copenhagen Travel Guide
Introduction:
Nyhavn is one of the most iconic and picturesque areas in Copenhagen, Denmark. Known for its colorful buildings, vibrant atmosphere, and rich maritime history, Nyhavn offers visitors a charming and unforgettable experience. This travel guide aims to provide all the essential information and tips for exploring Nyhavn, ensuring a memorable visit to this remarkable destination.
1. Getting there:
– Flights: International travelers can fly into Copenhagen Airport (CPH), which is located approximately 8.5 kilometers from Nyhavn.
– Public Transportation: Travelers can use the city's efficient public transport system, including buses, metro, and trains, to reach Nyhavn. The nearest metro station is Kongens Nytorv or Christianshavn.
– Walking/Cycling: Nyhavn is easily accessible on foot or by bike, making it convenient for those staying in the city center.
2. History and Culture:
– Nyhavn's Maritime History: Learn about the area's fascinating maritime background, which served as a bustling harbor in the 17th century, hosting ships from all around the world.
– Hans Christian Andersen's House: Visit the charming yellow house where the famous Danish author, Hans Christian Andersen, lived for many years. The house is now a museum.
– Historical Buildings: Take a walk along Nyhavn Canal and admire the beautiful colorful buildings that date back to the 17th and 18th centuries.
3. Things to Do:
– Canal Boat Tours: Embark on a relaxing boat trip along the scenic Nyhavn Canal. Explore the city from a different perspective and listen to the engaging commentary about the area's history.
– Enjoy Outdoor Cafés: Sip on a cup of coffee or sample Danish delights at one of the many cozy outdoor cafés lining the canal. Watch the world go by and soak up the vibrant atmosphere.
– Visit Nyhavn Street Food Market: Try a wide range of delicious street food offerings from all over the world at this modern food market. Indulge in local dishes or explore international flavors.
4. Nearby Attractions:
– Amalienborg Palace: A short walk from Nyhavn, Amalienborg Palace offers the chance to witness the Changing of the Guard ceremony, as well as exploring the elegant royal residence.
– The Little Mermaid Statue: Head towards Langelinie Promenade to see the iconic Little Mermaid Statue, inspired by Hans Christian Andersen's fairytale.
– Christianshavn: Nyhavn's neighboring district, Christianshavn, is a charming quarter known for its picturesque canals, beautiful architecture, and cozy cafés.
5. Dining and Nightlife:
– Danish Cuisine: Discover traditional Danish dishes, such as smørrebrød (open-faced sandwiches), meatballs, and herring, at the many restaurants in Nyhavn.
– Waterfront Dining: Enjoy a meal with a view at one of the waterfront restaurants, where you can gaze upon the canal while savoring delicious Danish cuisine.
– Bars and Pubs: Experience the lively nightlife in Nyhavn, with various bars and clubs offering cocktails, local beers, and entertainment.
6. Practical Tips:
– Best Time to Visit: Nyhavn is vibrant all year round, but summer months (June to August) offer long daylight hours and pleasant weather.
– Currency: Denmark's currency is the Danish Krone (DKK). Credit cards are widely accepted, but it is good to carry some local currency for smaller establishments.
– Safety: Nyhavn is generally a safe area, but it's always wise to take basic precautions, such as keeping an eye on your belongings and being aware of your surroundings.
Conclusion:
Nyhavn's colorful facades, historic buildings, and maritime history make it a must-visit destination for travelers exploring Copenhagen. Whether you are strolling along the canal, indulging in local cuisine, or enjoying a boat tour, Nyhavn promises an enchanting experience. Use this travel guide as your companion to ensure you make the most of your visit to this vibrant and picturesque area of Copenhagen.
7. Events and Festivals:
Nyhavn is not only a charming destination to explore year-round, but it also hosts several events and festivals that add an extra touch of excitement to your visit. Here are some of the top events and festivals to look out for in Nyhavn:
– Nyhavn Jazz Festival: If you are a fan of jazz music, you're in for a treat. Every summer, Nyhavn comes alive with the sounds of jazz during the Nyhavn Jazz Festival. Enjoy performances by talented local and international jazz musicians, while soaking up the festive atmosphere by the canal.
– Christmas Market at Nyhavn: During the festive season, Nyhavn transforms into a winter wonderland with its charming Christmas market. Stroll through the market stalls adorned with fairy lights, and browse for unique gifts, crafts, and festive treats. Sip on warm gløgg (mulled wine) and sample traditional Danish Christmas delicacies.
– Harbor Festival: Celebrating Nyhavn's rich maritime heritage, the Harbor Festival is a popular event that takes place annually in Nyhavn. Experience the lively atmosphere as the harbor comes alive with historical ships, boat races, live music, and a vibrant street market.
– Copenhagen Pride Parade: Nyhavn plays a significant role during Copenhagen's Pride celebrations. Join the colorful and inclusive atmosphere as the city celebrates diversity and equality. The parade route often passes through or near Nyhavn, making it a fantastic spot to join the festivities and show your support.
– Cultural Festivals and Exhibitions: Keep an eye on Nyhavn's event calendar for various cultural festivals and exhibitions that take place throughout the year. These events showcase art, music, theater, and dance performances, providing visitors with a taste of Copenhagen's vibrant cultural scene.
Attending these events and festivals in Nyhavn offers a unique and immersive experience, allowing you to connect with the local culture and traditions while enjoying the beautiful surroundings. Be sure to check the dates and plan your visit accordingly to make the most of these exciting events during your time in Nyhavn.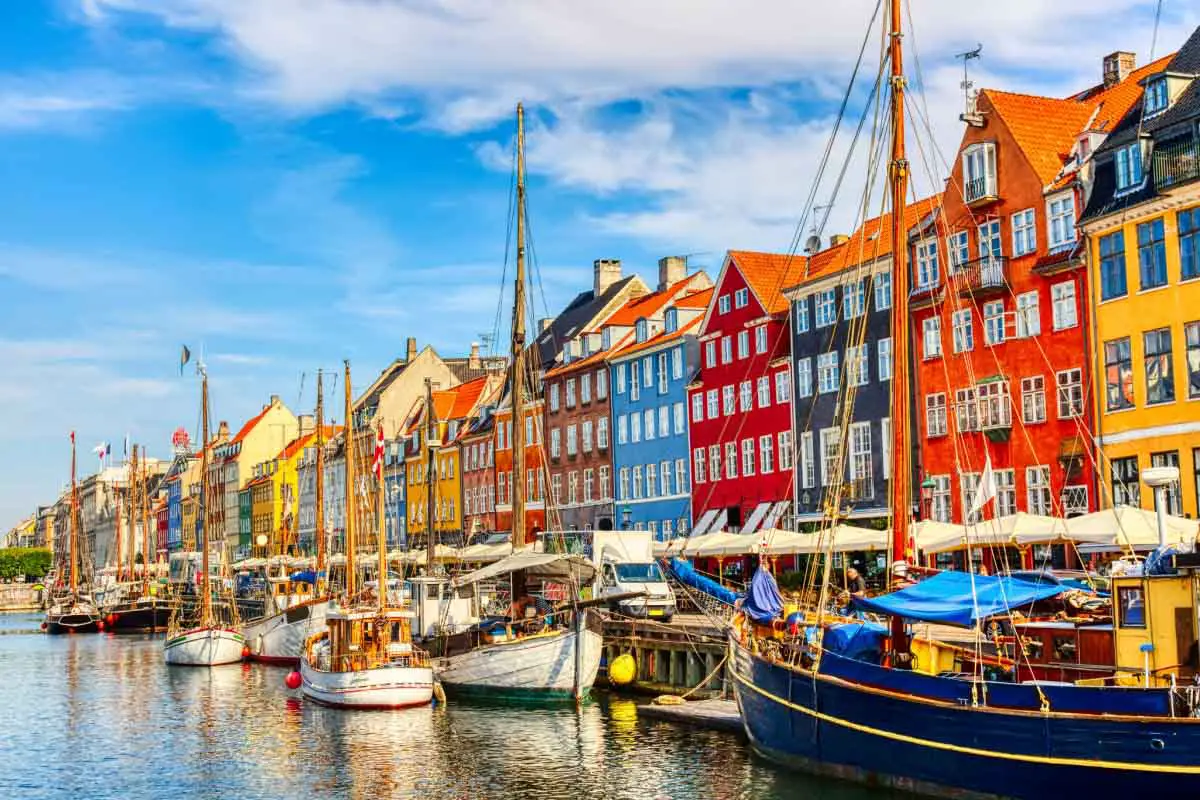 7. Location and Food:
– Nyhavn's Scenic Setting: Situated along the banks of a picturesque canal, Nyhavn offers visitors stunning waterfront views and a lively atmosphere. The harbor setting provides a unique backdrop, with colorful buildings reflecting off the tranquil waters, creating a postcard-worthy scene.
– Danish Culinary Delights: Nyhavn is a gastronomic paradise, offering a wide array of dining options that cater to all tastes and budgets. Indulge in traditional Danish cuisine and savor the flavors of classic dishes like smørrebrød, the famous open-faced sandwiches topped with various ingredients like pickled herring, eggs, and shrimp. For seafood lovers, Nyhavn is a dream come true, with many restaurants serving up fresh and delicious fish, lobster, and shrimp dishes.
– International Cuisine: Nyhavn is not only home to Danish delicacies but also hosts numerous international restaurants, offering a diverse culinary experience. Travelers can explore flavors from around the world, from Italian pasta to exotic Asian dishes. The vibrant street food market is the perfect place to explore international flavors, with vendors offering an exciting range of bites from across the globe.
– Cozy Cafés and Bars: Nyhavn is brimming with charming outdoor cafés that provide the perfect spot to relax and watch the world go by. Whether you're in the mood for a cup of coffee, a Danish pastry, or a refreshing cocktail, the waterfront cafés offer a cozy ambiance and stunning views. Alternatively, dive into the vibrant nightlife scene and discover the numerous bars and pubs that line the canal. Enjoy a local beer or sip on a creative cocktail while immersing yourself in the buzzing atmosphere.
– Nyhavn's Culinary Festivals: Nyhavn hosts several food festivals throughout the year, where visitors can indulge in a variety of culinary delights. One of the most popular events is the Nyhavn Christmas market, where food stalls offer traditional Danish Christmas treats, such as æbleskiver (round pancakes) and gløgg (mulled wine). For those visiting during the summer, the waterfront comes alive with the Nyhavn Summer Jazz Festival, showcasing live music performances and food stalls offering a blend of international cuisines.
With its stunning location and diverse culinary scene, Nyhavn is a food lover's paradise. Whether you're craving traditional Danish dishes or global flavors, this vibrant neighborhood has something to satisfy every palate. Take a leisurely stroll along the canal, immerse yourself in the rich maritime history, and indulge in the delectable cuisine that Nyhavn has to offer.