Title: "Discover the Enchanting Bay of Islands – A Traveler's Guide"
Introduction:
Welcome to the picturesque Bay of Islands in New Zealand! This travel guide will take you on a virtual journey through this breathtaking destination, known for its stunning landscapes, crystal-clear waters, and rich cultural heritage. Whether you seek adventure, relaxation, or cultural exploration, the Bay of Islands has something for everyone. Get ready to dive into the wonders of this extraordinary place!
1. Exploring the Bay's Natural Beauty:
– Discover the Bay's 144 idyllic islands, a paradise for maritime enthusiasts, offering superb sailing, diving, and fishing opportunities.
– Visit the iconic Hole in the Rock, where you can witness dolphins frolicking in the shimmering blue waters.
– Hike along scenic trails, revealing mesmerizing vistas, lush forests, and hidden waterfalls.
– Immerse yourself in the rich Maori heritage at Waitangi Treaty Grounds, the birthplace of New Zealand, and experience traditional ceremonies and vibrant cultural performances.
2. Water-Based Adventures:
– Embark on a thrilling dolphin-watching tour, where you can swim alongside these magnificent creatures in their natural habitat.
– Indulge in water sports like kayaking, paddleboarding, and jet skiing, exploring the pristine bays, coves, and secret hideaways.
– Set sail on a luxury yacht or join a sailing tour, letting the cool ocean breeze take you across the Bay and beyond.
– Charter a fishing boat and try your luck at catching renowned species like snapper, kingfish, and marlin.
3. Historical and Cultural Experiences:
– Journey into the past at Russell, New Zealand's first European settlement, boasting beautifully preserved colonial buildings and intriguing museums.
– Explore the Kerikeri Basin, home to the country's oldest Stone Store and Mission House.
– Learn about Maori legends and traditions at the Pompallier Mission, the historical printery and tannery, offering interactive displays and demonstrations.
– Discover the artistic side of the Bay at the Waka Workshop, where skilled craftsmen create traditional Maori canoes using age-old techniques.
4. Indulgence and Relaxation:
– Pamper yourself in the region's luxurious spa resorts and wellness retreats, nestled in serene surroundings.
– Sample exquisite local wines at the Bay's vineyards, and savor fresh seafood at waterfront restaurants.
– Enjoy a leisurely cruise, exploring spectacular coastlines while relishing a sumptuous gourmet meal onboard.
– Luxuriate in the warm sands of secluded beaches, basking in the sun's embrace as you unwind with a good book.
Conclusion:
The Bay of Islands awaits adventurous souls, nature lovers, and cultural enthusiasts with open arms. Plan your dream getaway and let the Bay's awe-inspiring beauty, vibrant history, and welcoming locals leave an indelible mark on your heart. Prepare to be captivated by the wonders of this exceptional destination – the enchanting Bay of Islands, New Zealand's hidden gem!
Additional Section: Vibrant Festivals and Events in the Bay of Islands
1. Waitangi Day Celebrations:
Every year on February 6th, the Bay of Islands comes alive with vibrant celebrations to commemorate Waitangi Day. This national holiday marks the signing of the Treaty of Waitangi, the founding document of New Zealand. Join the festivities at the Waitangi Treaty Grounds, where you can witness traditional Maori performances, cultural displays, and engage in interactive workshops. Immerse yourself in the vibrant atmosphere as locals and visitors alike come together to celebrate the nation's diverse cultural heritage.
2. Bay of Islands Jazz and Blues Festival:
Music lovers rejoice during the annual Bay of Islands Jazz and Blues Festival held in Paihia. This four-day extravaganza, usually taking place in August, showcases an incredible lineup of local and international talent. Enjoy a toe-tapping experience as the sounds of jazz and blues fill the air, creating a lively and energetic atmosphere. From intimate performances in cozy bars to large-scale concerts, this festival offers something for every music enthusiast.
3. Tall Ships Regatta:
Experience the thrill of the high seas during the iconic Tall Ships Regatta in the Bay of Islands. Held biennially, this event brings together a collection of majestic tall ships from around the world. Watch as these graceful vessels navigate the waters, showcasing their impressive sails and evoking a sense of nostalgia. Join the festivities ashore, where you can explore the ships, meet the crew, and enjoy live entertainment and delicious food stalls.
4. Kororāreka Music Festival:
Celebrate the local music scene at the Kororāreka Music Festival, an annual event held in Russell. This festival showcases a diverse range of musical genres, from rock and folk to reggae and classical. Wander through the historic streets of Russell, where talented musicians perform in charming venues such as cafes, pubs, and parks. Enjoy a relaxed and intimate atmosphere as you discover new sounds and support local artists.
5. Bay of Islands Arts Festival:
Experience the region's creative spirit during the Bay of Islands Arts Festival, held biennially in various locations around the Bay. This vibrant celebration of art brings together talented artists, performers, and creative minds from all disciplines. From captivating exhibitions to theatrical performances and interactive workshops, immerse yourself in the world of visual arts, dance, theater, and music. The festival provides a platform for local and international artists to showcase their talents and ignite the imaginations of visitors.
Conclusion:
The Bay of Islands not only boasts breathtaking landscapes and rich cultural heritage but also offers a plethora of lively festivals and events throughout the year. Immerse yourself in the vibrant atmosphere of Waitangi Day, groove to the rhythms of jazz and blues, witness the grandeur of tall ships, discover local musical talents, and indulge in the creative world of the arts. These festivals and events add an extra layer of excitement to the already enchanting Bay of Islands experience, ensuring that your visit is truly unforgettable.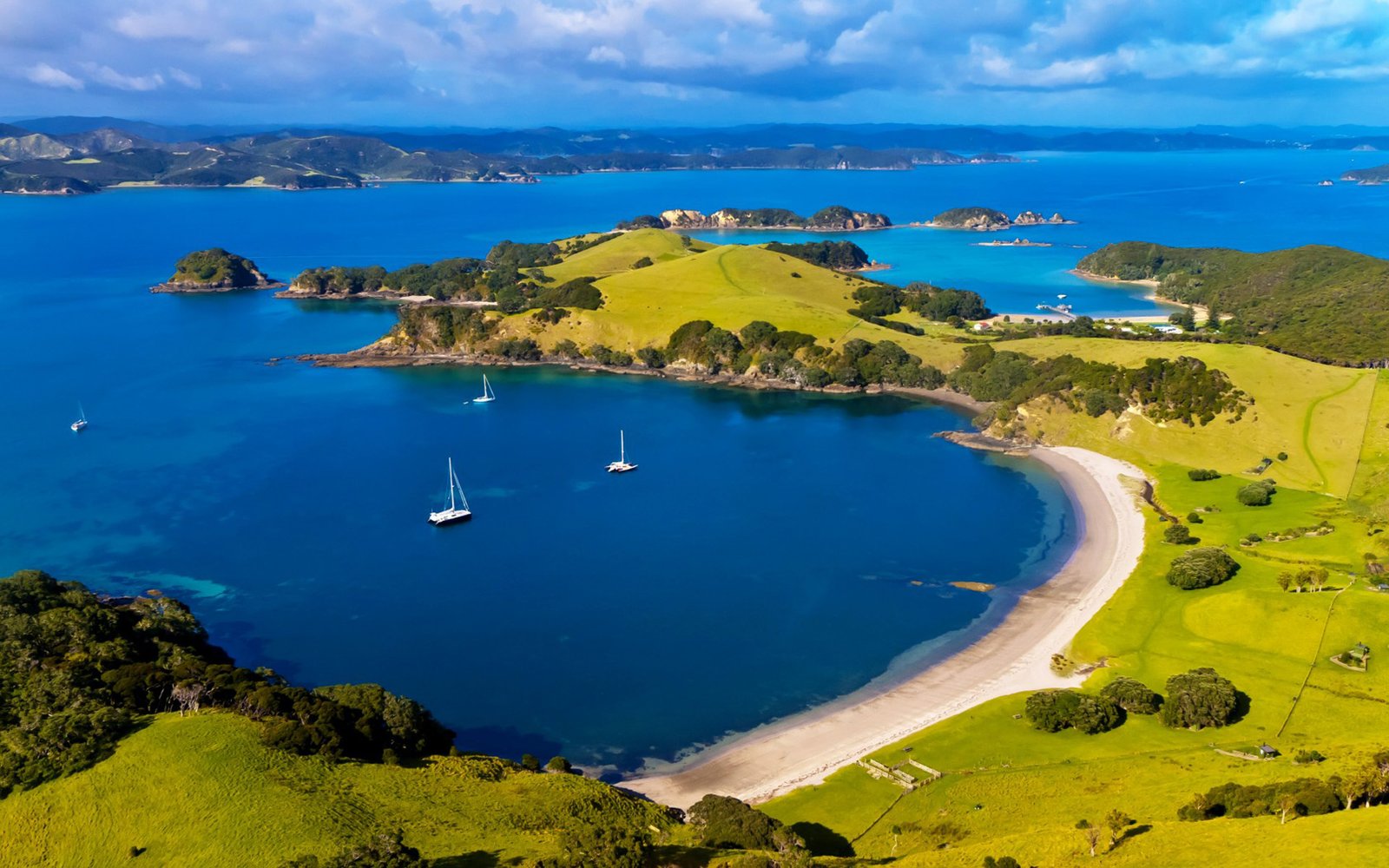 5. Delightful Culinary Experiences:
– Bay of Islands is a food lover's paradise, offering a wide array of delicious cuisine that showcases the region's bountiful harvest from the land and sea.
– Indulge in a traditional Maori hangi feast, where succulent meats and vegetables are slow-cooked in an underground oven, resulting in tender, flavorful dishes.
– Sample fresh seafood delicacies like succulent green-lipped mussels, tender crayfish, and plump oysters sourced from the pristine waters surrounding the Bay.
– Visit the local farmers market in Kerikeri, where you can find a variety of organic produce, artisanal cheeses, and homemade preserves.
– Experience true paddock-to-plate dining at one of the Bay's farm-to-table restaurants, where chefs create culinary masterpieces using locally sourced ingredients.
– Explore the vibrant food scene in Paihia, the gateway to the Bay of Islands, where you can find a diverse range of international cuisines alongside traditional Maori fare.
6. Wine and Craft Beer Tasting:
– The Bay of Islands boasts several vineyards and craft breweries, offering the perfect opportunity to savor the region's exceptional wines and beers.
– Take a wine tour and visit award-winning wineries, where you can sample exquisite varietals such as Chardonnay, Sauvignon Blanc, and Pinot Noir.
– Enjoy a leisurely afternoon at a cellar door, where you can learn about the winemaking process and indulge in a guided tasting experience.
– For beer aficionados, visit one of the local craft breweries, where you can sample unique and flavorful brews crafted by passionate artisans.
– Sit back, relax, and soak in the stunning vineyard views while sipping on a glass of wine or enjoying a refreshing beer flight.
7. Cafes and Local Delights:
– Discover cozy cafes scattered throughout the Bay, where you can enjoy a cup of freshly brewed coffee or indulge in a delectable treat.
– Try famous New Zealand specialties like the iconic meat pie, creamy pavlova, or a refreshing hokey pokey ice cream.
– Experience the art of chocolate making at the locally renowned chocolate factory, where you can witness skilled chocolatiers crafting mouthwatering creations.
– Enjoy a leisurely brunch by the waterfront, savoring a plate of eggs benedict paired with a perfectly brewed flat white.
– Immerse yourself in the laid-back atmosphere of Paihia's dining scene, where you can find quaint cafes, bustling bistros, and charming waterfront restaurants.
As you explore the Bay of Islands, be prepared to embark on a culinary journey that will tantalize your taste buds and introduce you to the flavors of New Zealand. From indigenous Maori cuisine to fresh seafood delights and exceptional wines, the Bay offers a delightful gastronomic experience that will leave you craving for more.