Title: "Romantic Road, Bavaria: A Journey Through Time and Love"
1. Introduction:
Welcome to our travel guide on Romantic Road, Bavaria! Prepare yourself for an enchanting journey through idyllic landscapes, charming villages, and fascinating historical sites. This picturesque route from Würzburg to Füssen offers a perfect blend of breathtaking scenery, romantic castles, and rich cultural heritage. Strap on your walking shoes and embark on a captivating adventure along the Romantic Road.
2. Trip Itinerary:
– Day 1: Würzburg – The Romantic Gateway: Explore the Baroque beauty of Würzburg Residence and stroll along the charismatic streets of the old town. Savor local wine at vineyards and gardens overlooking the Main River.
– Day 2: Rothenburg ob der Tauber – A Medieval Marvel: Step into the Middle Ages in Rothenburg, with its well-preserved city walls, half-timbered houses, and delightful Christmas shops. Don't miss the iconic Plönlein corner and enjoy spectacular views from the Town Hall Tower.
– Day 3: Dinkelsbühl and Nördlingen – Hidden Gems: Discover the smaller but equally charming towns of Dinkelsbühl and Nördlingen. Marvel at their medieval fortifications, enchanting market squares, and unique architectural marvels.
– Day 4: Augsburg – The Renaissance Wonderland: Immerse yourself in Augsburg's rich cultural history by visiting the Fuggerei, Rathaus, and magnificent Augsburg Cathedral. Enjoy the city's vibrant atmosphere and delightful museums.
– Day 5: Hohenschwangau/Füssen – Majestic Castles: Journey to the famous Neuschwanstein Castle, the ultimate symbol of romanticism. Visit its neighboring castle, Hohenschwangau, and unwind amid the idyllic Alpine surroundings of Füssen.
– Day 6: Bonus Stop: Donauwörth – Rivers and Canals: Take a detour to Donauwörth, a charming town nestled at the confluence of the Danube and Wörnitz rivers. Admire its beautiful historic landmarks and enjoy a scenic boat ride.
3. Accommodations and Dining:
– Explore the region's traditional and cozy guesthouses, known as "Gasthäuser," that offer comfortable rooms and regional cuisine.
– Indulge in authentic Bavarian delicacies such as sausages, pretzels, and Weisswurst, accompanied by local beers and Franconian wines.
– Savor delicious pastries like the renowned Schneeballen (snowball pastries) in Rothenburg and exquisite gingerbread in Nuremberg.
4. Activities and Experiences:
– Take a romantic horse-drawn carriage ride through the cobblestone streets of Rothenburg, embracing the old-world charm.
– Attend a traditional beer garden in Bavaria and participate in lively local festivals held throughout the year.
– Get enchanted by live performances at the famous Marionette Theater in Augsburg, bringing classic fairy tales to life.
– Join a guided tour inside the fairytale-like Neuschwanstein Castle, built by King Ludwig II.
5. Practical Information:
– Best time to visit: The months between April and October provide pleasant weather, blooming landscapes, and numerous cultural events.
– Transportation: Renting a car is ideal for the Romantic Road journey, but public transportation options like trains and buses are also available between the towns.
– Useful Tips: Carry comfortable shoes, a good camera, and a guidebook to fully enjoy the vast historical and natural attractions.
Embark on this unforgettable journey through the Romantic Road in Bavaria, where centuries of history blend seamlessly with breathtaking landscapes and romantic allure. Prepare to create cherished memories filled with love, culture, and picturesque moments. Bon voyage!
6. Events and Festivals:
In addition to its captivating landscapes and historical sites, the Romantic Road in Bavaria is also known for its vibrant events and festivals throughout the year. These celebrations offer visitors an opportunity to immerse themselves in the local culture and witness the region's rich traditions come to life.
– Wine Festivals: Bavaria is renowned for its exceptional wines, and the towns along the Romantic Road proudly showcase their vineyards and winemaking heritage through various wine festivals. Visitors can sample a wide selection of wines, from crisp whites to full-bodied reds, while enjoying live music, lively parades, and traditional Bavarian cuisine. The Würzburg Wine Festival, held in July, is a highlight, where locals and tourists come together to celebrate the region's wine-growing legacy.
– Christmas Markets: During the festive season, the towns along the Romantic Road transform into magical wonderlands with enchanting Christmas markets. Rothenburg ob der Tauber's Christmas market is particularly famous for its medieval charm and traditional crafts. Visitors can wander through the illuminated streets, sipping mulled wine, and indulging in delicious gingerbread and roasted chestnuts. The market's centerpiece is the Käthe Wohlfahrt Christmas Village, a treasure trove of handcrafted ornaments, nutcrackers, and festive decorations.
– Folk Festivals: Experience the lively folk traditions of Bavaria by attending one of the many folk festivals held along the Romantic Road. The Dinkelsbühl Kinderzeche festival in July is a colorful spectacle that reenacts the town's historical rescue during the Thirty Years' War. Visitors can witness parades, historical performances, and enjoy traditional music and dances. Another popular event is the Füssen Festival Week, held in August, which showcases a variety of music and dance performances, including Bavarian folk dances and classical concerts in the fabulous setting of Füssen Abbey.
– Easter Celebrations: Springtime along the Romantic Road brings the vibrant celebrations of Easter. Towns like Augsburg and Nördlingen host elaborate Easter markets where visitors can find beautifully decorated Easter eggs, handmade crafts, and delicious seasonal treats. Witness the traditional Osterbrunnen (Easter wells) adorned with thousands of painted eggs, an ancient Bavarian custom symbolizing nature's rebirth after winter.
These events and festivals add an extra layer of charm to the Romantic Road experience, allowing visitors to engage with the local culture and create unforgettable memories along their journey. Be sure to check the event calendars and plan your visit accordingly to fully immerse yourself in these vibrant celebrations.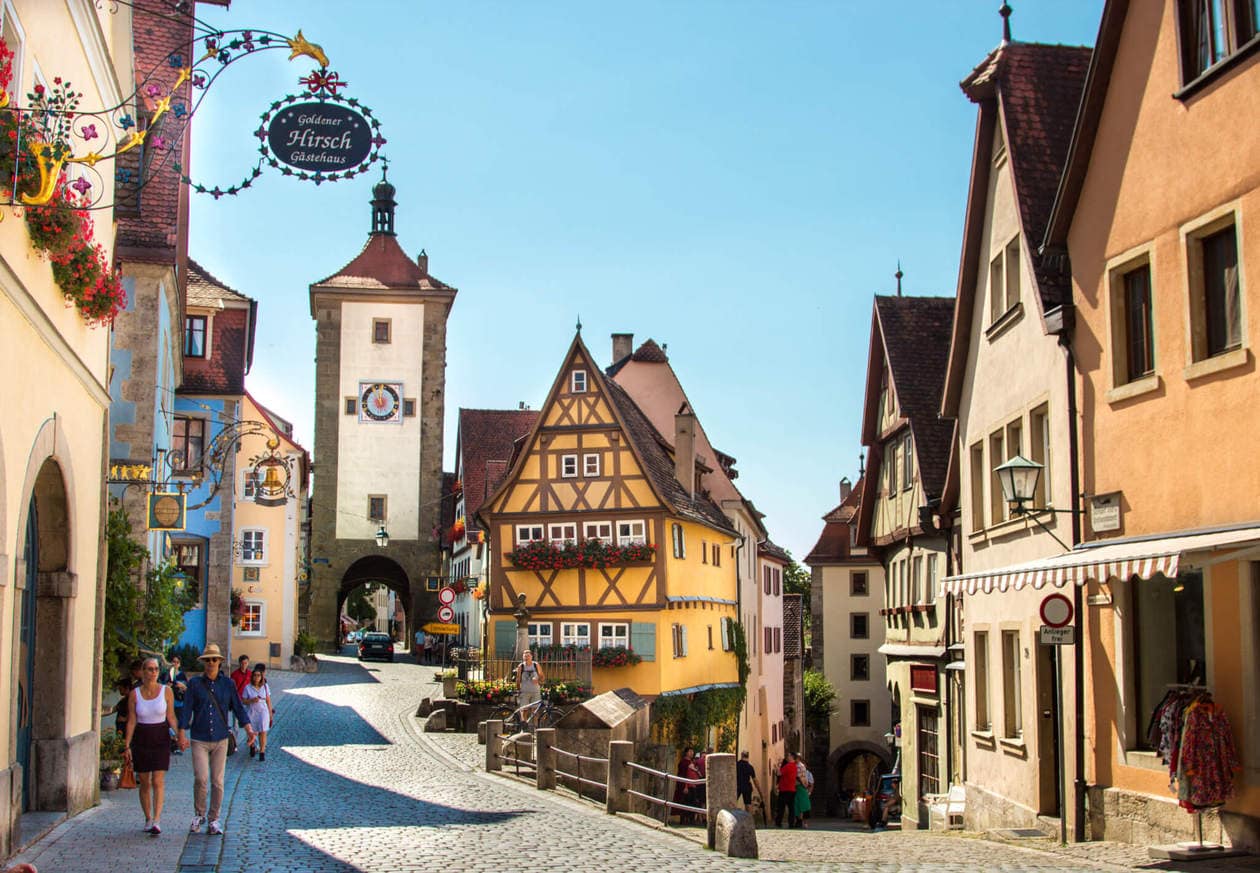 6. Location and Food:
As you traverse the Romantic Road, you'll be immersed in the stunning landscapes of Bavaria. Rolling hills, lush vineyards, and charming villages will surround you at every turn. The idyllic scenery sets the perfect backdrop for a romantic getaway, allowing you and your loved one to escape from the hustle and bustle of daily life.
Bavaria is renowned for its hearty cuisine and delicious flavors. Along the Romantic Road, you'll have the opportunity to indulge in traditional Bavarian dishes that will leave your taste buds craving for more. Accompany your meals with local beers and Franconian wines, and you'll truly experience the flavors of the region.
One not-to-be-missed delicacy is the Weisswurst, a traditional Bavarian sausage made from minced veal and back bacon. This succulent sausage is typically flavored with parsley, lemon peel, mace, onions, ginger, and cardamom, giving it a unique and delightful taste. Pair it with a freshly baked pretzel for the perfect match.
As you explore the charming town of Rothenburg ob der Tauber, don't forget to try the renowned Schneeballen, or snowball pastries. These delightful treats are made from shortcrust pastry that is rolled into a ball, fried until golden, and generously dusted with powdered sugar. They come in a variety of flavors, including vanilla, chocolate, and fruity options.
Another culinary highlight along the Romantic Road is Nuremberg's exquisite gingerbread. Known as Lebkuchen, these soft and aromatic cookies are made from honey, spices, almonds, and candied fruits. The intricate designs and flavors of Nuremberg gingerbread make them the perfect souvenir to take home for friends and family.
Throughout your journey, you'll also encounter charming cafes, pastry shops, and beer gardens where you can relax and savor the tastes of Bavaria. Whether it's enjoying a cup of coffee and a slice of cake in a cozy corner or raising a glass of beer in a lively beer garden, the food and drink experiences along the Romantic Road are sure to create lasting memories.
So, get ready to embark on a culinary adventure as you explore the Romantic Road. From savory sausages and freshly baked pretzels to delectable pastries and flavorful gingerbread, the flavors of Bavaria will take you on a delightful gastronomic journey. Let every bite and sip transport you to a world of romance and culinary delight along this enchanting route.