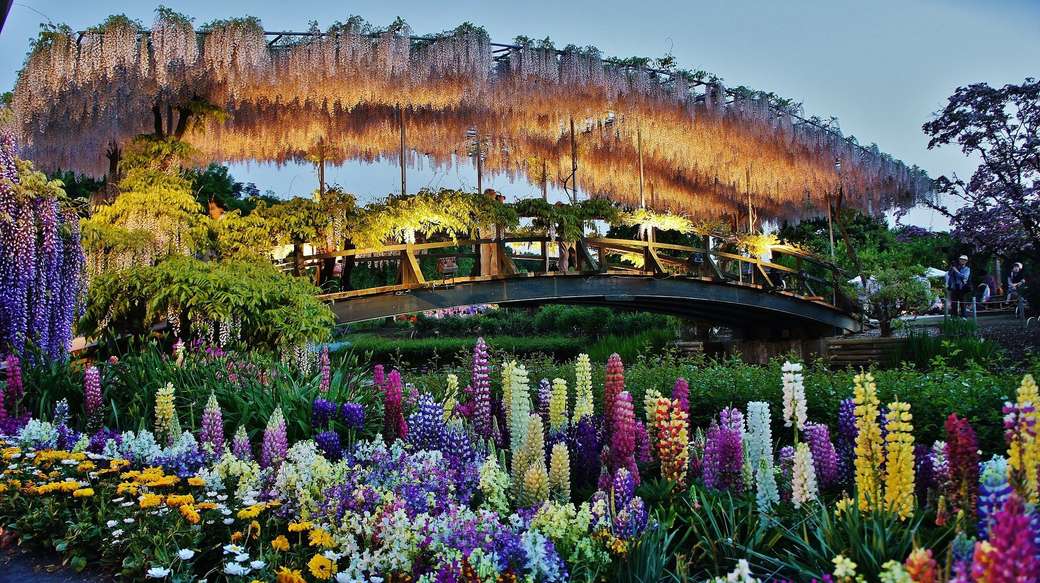 Ashikaga Flower Park Travel Guide
Welcome to Ashikaga Flower Park, located in Ashikaga City, Japan. Known as one of the top destinations for flower enthusiasts, this picturesque park offers a breathtaking experience with its splendid floral displays. Whether you are interested in cherry blossoms, wisteria, or other seasonal flowers, Ashikaga Flower Park has something to offer for everyone. Situated just a short distance from Tokyo, it is easily accessible and makes for a perfect day trip or weekend getaway. Read on to discover the highlights, tips, and important information for planning your visit.
1. Location and Getting There:
Ashikaga Flower Park is situated in Tochigi Prefecture, about 80 kilometers north of Tokyo. The most convenient way to reach the park is by taking the JR or Tobu Railway lines from Tokyo. From Ashikaga Station, the park is just a short bus ride away. Alternatively, you can also drive to the park, as there is ample parking available.
2. Best Time to Visit:
The park mesmerizes visitors throughout the year, but the best time to visit depends on your preferred flower. The park is renowned for its wisteria, which bloom from late April to mid-May, transforming the surroundings into a magical lavender wonderland. Spring is also an ideal time to witness cherry blossoms, while summer brings vibrant water lilies and roses. To catch the park in full bloom, the months of April, May, and June are highly recommended.
3. Attractions and Highlights:
– Great Wisteria: Don't miss the centerpiece of the park, the Great Wisteria, a 150-year-old wisteria tree that spreads over 1,000 square meters. Marvel at the cascading flowers and enjoy walking through the magical tunnel created by the blooming wisteria.
– Illuminated Gardens: In the evenings, the park transforms into a fantasyland with stunning illuminations. The lights reflect on the flowers, creating a dreamy atmosphere. Be sure to check the schedule for the illuminated gardens, as it varies depending on the season.
– Flowering Trees: Explore the magnificent collection of flowering trees, including various types of cherry blossoms, tulip trees, and rhododendron. Each season showcases different trees in bloom, offering breathtaking views and picturesque photo opportunities.
4. Park Facilities:
– Restaurants and Cafes: Refuel at the park's several dining options, ranging from traditional Japanese cuisine to casual cafes. Enjoy a meal surrounded by beautiful landscapes and flower displays.
– Souvenir Shops: Take a piece of the park's beauty home with you by browsing through the souvenir shops, offering a wide range of flower-themed gifts, local crafts, and regional delicacies.
– Accessibility: The park is wheelchair and stroller-friendly, with wide paths and ramps throughout. Rental wheelchairs and strollers are also available, making it easier for everyone to enjoy the park.
5. Tips for a Pleasant Visit:
– Plan ahead and check the park's official website for information on admission fees, opening hours, and special events.
– Bring your camera to capture the stunning floral displays and scenic landscapes. Don't forget spare batteries and memory cards!
– Wear comfortable shoes, as the park is vast, and you will be doing a lot of walking.
– Check the weather forecast before your visit and bring appropriate clothing, especially during spring and autumn, as the temperature can be variable.
– Visit on weekdays if possible to avoid larger crowds, especially during peak seasons.
Ashikaga Flower Park is a paradise for nature lovers and a must-visit destination for flower enthusiasts. With its enchanting displays and serene ambiance, it promises a memorable experience for all visitors. Start planning your trip to Ashikaga Flower Park, and immerse yourself in the beauty of nature's wonders.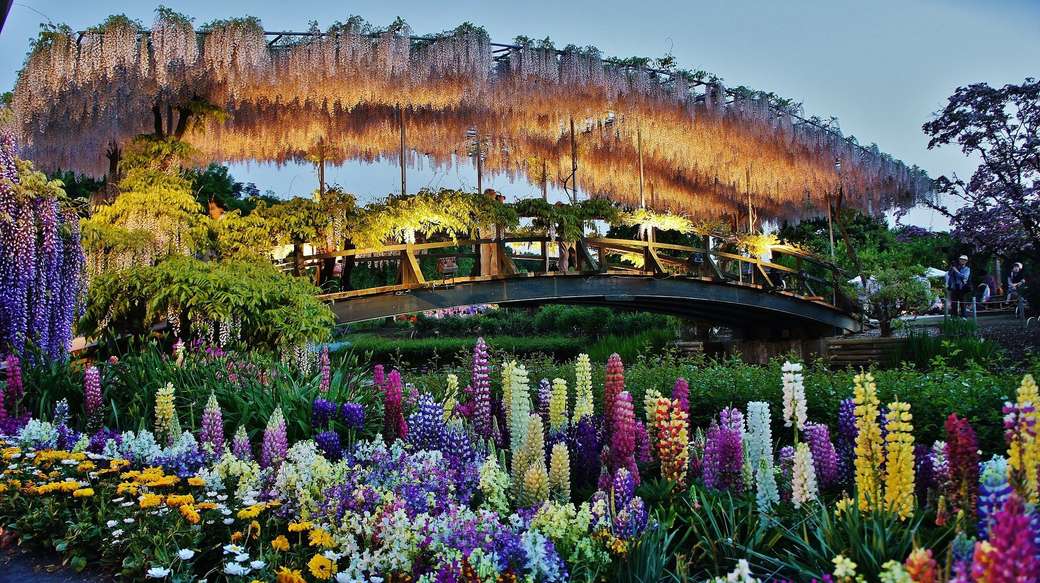 6. Events and Festivals:
Ashikaga Flower Park is not only known for its stunning floral displays but also for its vibrant events and festivals throughout the year. These celebrations add an extra touch of excitement and make your visit even more magical. Here are some of the must-see events and festivals at Ashikaga Flower Park:
– Wisteria Festival: The Wisteria Festival, held from late April to mid-May, is the highlight of the park's events calendar. During this time, the Great Wisteria, along with numerous other wisteria varieties, bursts into full bloom, filling the park with cascading purple flowers. Enjoy performances, live music, traditional dances, and food stalls during the festival, creating a lively and festive atmosphere.
– Night Illuminations: Experience the park's ethereal beauty during the Night Illuminations event. From mid-April to mid-May, the park stays open until evening, allowing visitors to witness the flowers in a whole new light. Thousands of LED lights illuminate the park, creating a mesmerizing spectacle of colors and giving the flowers an enchanting glow. The illuminated gardens are truly a sight to behold and are perfect for a romantic evening stroll or a memorable family outing.
– Rose Festival: If you visit in late May, be sure to catch the Rose Festival. This event showcases a vast array of stunning roses in full bloom. Wander through the park's rose garden and revel in the captivating fragrance and vibrant hues. The Rose Festival also features various activities and workshops, such as rose arrangement classes and flower-themed art exhibitions, providing visitors with an immersive experience in the world of roses.
– Autumn Festival: As the seasons change, Ashikaga Flower Park transforms once again during the Autumn Festival. From late September to early November, the park showcases the beauty of autumn foliage, with colorful maple trees and other seasonal plants taking the spotlight. Experience the breathtaking sight of golden leaves against a backdrop of blue skies, and enjoy the peaceful ambiance that the autumn season brings.
These events and festivals at Ashikaga Flower Park provide unique and unforgettable experiences for visitors. Whether you want to immerse yourself in the charm of wisteria, bask in the romantic ambiance of the illuminations, or appreciate the vibrant colors of roses and autumn foliage, there is an event that will captivate your senses. Don't miss out on these special occasions when planning your visit to Ashikaga Flower Park, as they add an extra layer of beauty and excitement to an already breathtaking destination.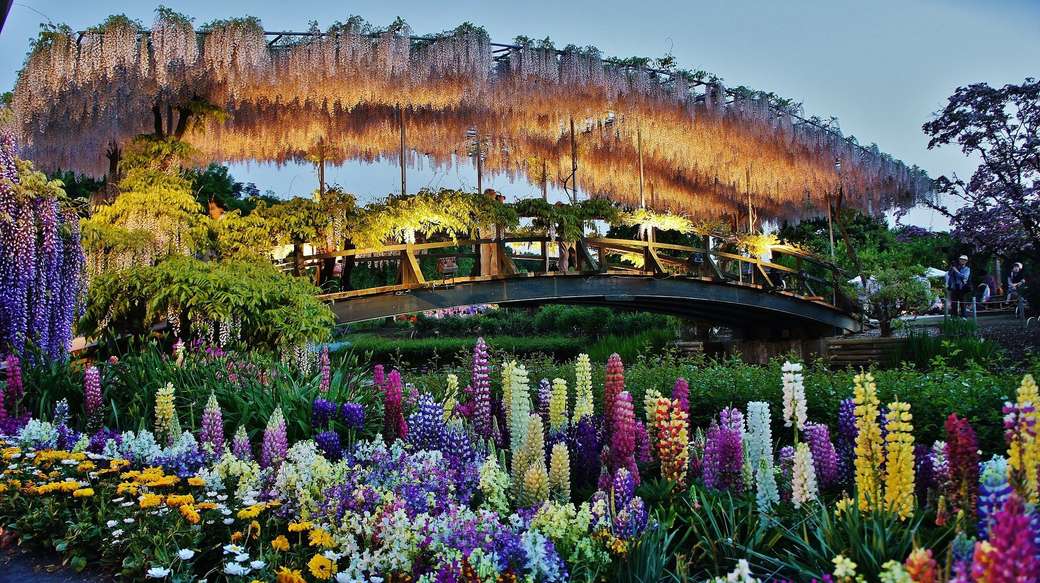 6. Local Cuisine:
While exploring the stunning floral displays at Ashikaga Flower Park, don't miss the opportunity to indulge in the region's delicious local cuisine. Ashikaga City offers a unique culinary experience, blending traditional Japanese flavors with local specialties. Here are some must-try dishes:
– Ashikaga Ramen: Savor a steaming bowl of Ashikaga's renowned ramen, featuring rich, flavorful broth and thin noodles. This local twist on a classic Japanese dish will surely satisfy your taste buds.
– Yuzu: Ashikaga is famous for its yuzu production, a citrus fruit known for its refreshing and aromatic flavor. Try yuzu-infused dishes, such as yuzu soba noodles, yuzu ice cream, or yuzu-flavored drinks, to experience the citrusy tang of the region.
– Tochigi Wagyu Beef: Indulge in the world-famous Tochigi Wagyu beef, renowned for its marbling and melt-in-your-mouth tenderness. Feast on perfectly grilled wagyu beef steak or try sukiyaki, a hot pot dish featuring thinly sliced beef cooked in a sweet and savory soy-based broth.
– Soba Noodles: Tochigi Prefecture is known for its high-quality soba noodles. Enjoy a satisfying meal of freshly made buckwheat noodles served hot or cold, paired with dipping sauce or in a flavorful broth. Don't forget to try the local specialty, yuba soba, which features soft, creamy soy milk skin topping the noodles.
– Strawberry Picking: If you're visiting Ashikaga Flower Park during the strawberry season (January to May), don't miss the chance to go strawberry picking. Visit a nearby farm and savor the sweetness of fresh, plump strawberries straight from the vine.
– Local Sake: Wash down your meal with a glass of locally brewed sake. Tochigi Prefecture is known for its sake production, and you can taste a variety of flavors and styles, from smooth and light to bold and rich.
Immerse yourself in the local culinary scene of Ashikaga City, and let the flavors of the region complement your visit to Ashikaga Flower Park. Whether you're exploring floral wonders or indulging in delicious dishes, Ashikaga promises an unforgettable experience for all your senses.